Coinciding with International Women's Day, SSBCrackExams brings to you some of the stellar women achievers of the Indian Armed Forces who have inspired by their grit and determination. These great women, usher in the hope that every girl has the inherent potential to realise her aspirations.
CAPTAIN PREETI CHOUDARY Captain Preeti Choudhary is the Only Woman Contingent Commander From The Indian Army Republic Day 2021. The upgraded Schilika weapon system will roll down in Rajpath for the first time this year during the Republic Day parade on January 26, led by her from the Indian Army. She won the Sword of Honour for being the best all-around cadet at the Officers Training Academy (OTA), Chennai.
MAJ K RENUKA 35 years old Major K Renuka is the first women Army Biker. She was podium finisher in 20th Raid-De-Himalaya last year and has mentored many young riders. She has also participated in Desert Storm rally 2019 in biking category.She was part of a motorcycle expedition which was conducted in Ladakh region from Leh to Karakoram Pass. The road route Leh-DBO-KK Pass was never used for such a Motorcycle expedition. The expedition was first of its kind and charted through the sentinels of towering Leh-DBO-KK Pass. The expedition was planned to break the invincibility and the myth of operating in the most harsh cold climatic conditions with temp ranging between (-)200 to (-)300C interlaced with acute wind chill factor while operating on Motorcycles. She was selected for this maiden expedition after a series of trials and rigorous training for over two months. The most notable part about the expedition was when the team was about to leave for Leh, the very same day she encountered a surgical emergency and underwent a laparoscopic surgery which resulted in her hospitalization for one week and elimination from the team as doctors had strictly advised her to refrain from participating in the expedition. She rode a bike weighing 4 times her body weight. However, her determination and ability to risk her life and support from the Indian Army motivated her to recover and she participated successfully in the expedition. She was the first women biker to reach Karakoram Pass on a bike.
MAJ EUTHICA Major Euthica is a glaring example of go getter confident personal and a self made independent women. Presently serving in the Indian Army, she is a keen motorsport enthusiast.Major Euthica joined the Indian Army in 2007 and has been at her epitome best at all her tasks in a service career spanning over a decade. She has varied experience of working in harsh terrains like high altitudes in J&K, Deserts in Jaisalmer and politically volatile environments, courtesy her tenures in Intense Insurgency affected areas of Manipur and Kashmir.Her journey with Motorsports world started with PHD Chamber of Commerce Women Car Rally 2018 with Podium Finish and ever since she has been growing exponentially as a Rally driver competing and finishing in podium in TSD as well as Extreme categories. Her performance in Taj Agra Car Rally 2018 bagged her Podiums. She led the first all women team fielded by the Army in Extreme category in Raid-de-Himalaya 2018 and Desert Storm 2019. To name a few of her achievements in a very nascent career in Motorsports, Winner of Coupe-de-Dames in Royal Rajasthan Rally (RRR) 2019 and SJOBA 2019. She secured Podium finish and best Driver trophy in PHD Women Car Rally 2019. Also winning the 6th Wild Adventure Rally 2019 and Times Women Rally 2019. Her zeal to excel and better upon standards set by herself is evident in her journey as rally driver so far.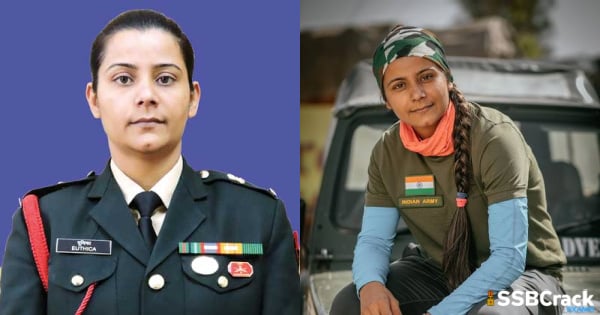 MAJ RUBY GARG Maj Ruby Garg was commissioned in Army Service Corps on March 22, 2008. The officer's enrolment as a NCC Cadet in 2001 was the turning point of her life where she learnt the disciplines of life. As the best cadet of Uttar Pradesh Directorate in Republic Day Camp, she got the opportunity to fire with 0.22 open sight rifle. Gradually she came to be known as 'Ruby Sharp Shooter' of Uttar Pradesh.In 2007, she got selected through SSB and became a part of India's finest shooting team i.e. Army Marksmanship Unit. Participating in the first National Big Bore Mavlankar Shooting Championship she made national record with a lead of 54 points. She was selected for other international championships and won her first International medal in SAF Games 2010 held at Dhaka. She represented the Indian Services Team in Croatia and Brazil where more than 40 countries participated and the Services team stood third for the first time. After five years of intense shooting, she participated in eight international events, won two International Medals, 30 National Medals & established three National Records.
CAPT SHEREYA Capt Shreya was commissioned in Army Service Corps on September 13, 2014 from OTA. She got her first posting to 5014 ASC Bn. Achievements of the officer are Haryana Olympic Games 2009-10 – Silver (Individual), Haryana Olympic Games 2010-11 – Silver & Bronze (Individual), Haryana Olympic Games 2011-12 – Gold (Individual) & Gold (Team), Haryana Olympic Games 2012-13 – Gold (Individual) & Gold (Team), Haryana State Fencing Championship 2014- Gold (Individual) & Gold (Team) and many others.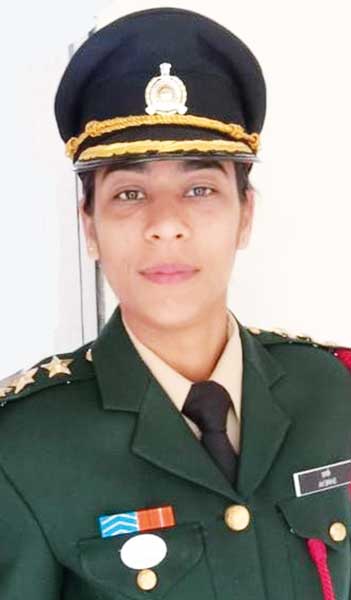 MAJ DEEPTI BHATT Maj Deepti Bhatt posted in 603 EME Bn has participated in several Indian Army mountaineering expeditions and successfully summitted with the team.Maj Deepti Bhatt was commissioned in the Corps of EME in March 2012 from OTA Chennai. The officer is an alumnus of Uttaranchal University, Dehradun with BTech in Computer Science and engineering in 2010.After successfully completion of basic and advance mountaineering course the officer got selected for Army Mountaineering Expedition. In year 2017, she sumitted shoulder of Mt Momostang Kangri (6000 mtr). In the year 2018, the officer did Army Winter Expedition to Mt Stok Kangri (6015 mtr). The same year in the month of May the officer did Indian Army Mt Bhagirathi-II Expedition (6545 mtr) and the team made a record of doing Yoga at the highest altitude (19022 ft). Name of the team members appeared in the Indian Limca Book of Records 2019. In year 2019, the officer did Indian Army expedition to Mt Kun (7077 mtr) in the Zanskar region.With her keen interest in the field of mountaineering, the officer recently did Chandar trek (The Frozen River Trek), one of the most difficult treks on Frozen Zanskar River.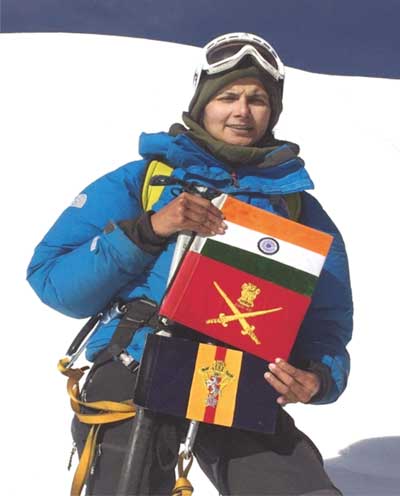 CAPT TANIA SHER GILL Captain Tania Sher Gill of the Corps of Signals made history on January 15, 2020 by becoming the first Woman Parade Adjutant to lead the Army Day Parade. Her resounding word of command and immaculate drill on the revered Cariappa Parade Ground was awe inspiring and stirred pride in everyone watching the Parade.Commissioned in March 2017 from the Officers Training Academy, Chennai, Captain Tania is a fourth generation officer. Her father served in the Regiment of Artillery, grandfather in the Armoured Corps and great grandfather in the Sikh Regiment. She holds a Bachelors Degree in Electronics and Telecommunication Engineering from Nagpur University.Captain Tania led the Parade with great poise and confidence brimming in every step she took. Her iconic performance on the Parade Ground resonated with the entire Nation. Her parade videos have since gone viral on Social Media and her resounding coverage in the print media has inspired the youth and particularly the women of India. Under her resolute command the Corps of Signals Marching Contingent was adjudged as the Best Marching Contingent of Army Day Parade 2020. Capt Tania Sher Gill later led the Corps of Signals Marching Contingent in the Republic Day Parade 2020 with great élan, confidence and panache.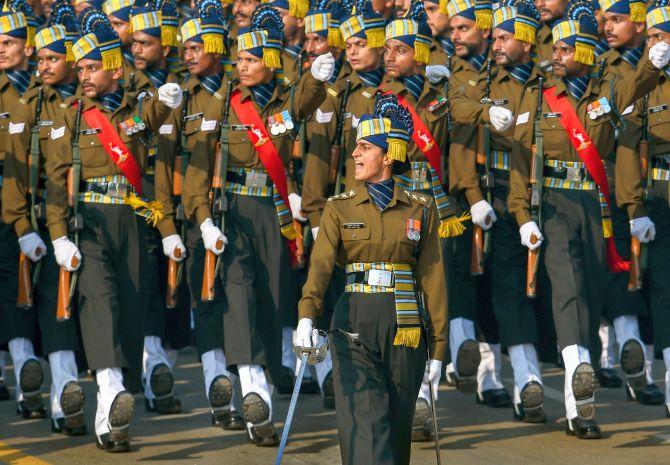 MAJ RAJ CHOUDHARY Maj Raj Chaudhary was commissioned in 2008 in 19 Engineer Regiment and was selected for shooting from OTA, Gaya.She joined AMU in 2009 to train herself in rifle shooting and was ranked fourth worldwide in 2010 in the World Military games in Brazil. She has 28 national medals and three international medals in the field, having participated in the World Military games, World championship, Asian games, World cups and National games since 2010.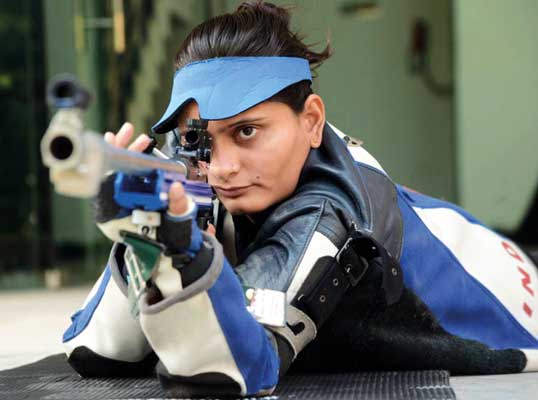 MAJ DEEPIKA RATHORE, VSM Maj Deepika Rathore belongs to the Corps of Ordnance, Indian Army. She is the first woman officer and the third in India to have summited Mount Everest twice, in 2012 and 2016. During the challenging phase of Summit Push, without even having a Sherpa to assist, Major Deepika led the marching column of enthusiastic NCC cadets from the front. With her sheer grit, tenacity and expertise, she was the first climber to reach the summit and soon the team followed the suit. In the process, the Summit Team created a world record of being maximum number of lady climbers summiting together from a single country.Maj Deepika also has the distinction of successfully summiting some of the most challenging peaks in the Himalayas such as Mount Kedardom, Mount Abhigamin, Gangotri – II, Mount Thelu, Mount Trishul, Mount Shitidhar, Friendship Peak and Mount Deo Tibba.
MAJ KHUSHBOO KANWAR Maj Khushboo Kanwar was commissioned in the Army Service Corps on March 17, 2012. She got her first posting to 764 ASC Battalion (Air Maint) at Mohanbari. There, the officer showed keen interest in getting trained as 'Air Despatch Crew'. Thereafter, the officer had an opportunity of serving in the second line Army Service Battalions.The officer was later selected to be part of first batch of 13 women officers to be posted in various formation headquarters of Assam Rifles. The officer was posted to HQ 10 Sector Assam Rifles as General Staff Officer Grade-3. The officer reached the people of Ukhrul with an aim of 'Winning Hearts and Minds' and associated herself with many youth and women frontal organisations. She was instrumental in creating awareness & job opportunities for men and women in remote insurgency affected border areas of Manipur. She also worked towards empowering widows & HIV positive cases by encouraging social acceptance.It was a dream come true for the women officers, JCOs and soldiers of Assam Rifles when it was decided to field an all women contingent for Republic Day Parade. The officer volunteered for participating in the contingent despite being mother of a two-year-old daughter.Many women soldiers in the contingent including Major Khushboo Kanwar had undergone caesarean section surgery in the recent past which was making it even more difficult. The officer led from the front and kept her contingent motivated and in high spirits throughout its journey to Rajpath. The contingent always took her as their role model.
LT SHWETA LOHIA Lt Shweta Lohia got commissioned in the year 2017 from the Officers' Training Academy, Chennai. Before commissioning, she secured merit number one in CDS exam category. Further, she displayed excellent swimming skills for which she was awarded merit card in the Academy. She secured 6 Gold Medals at CBSE Nationals and has 5 Swimming National Records to her name. After commissioning, she continued swimming and participated in the 15th Master Swimming Championship held at Vishakhapatnam from October 11-14, 2018, where she secured 4 Gold Medals.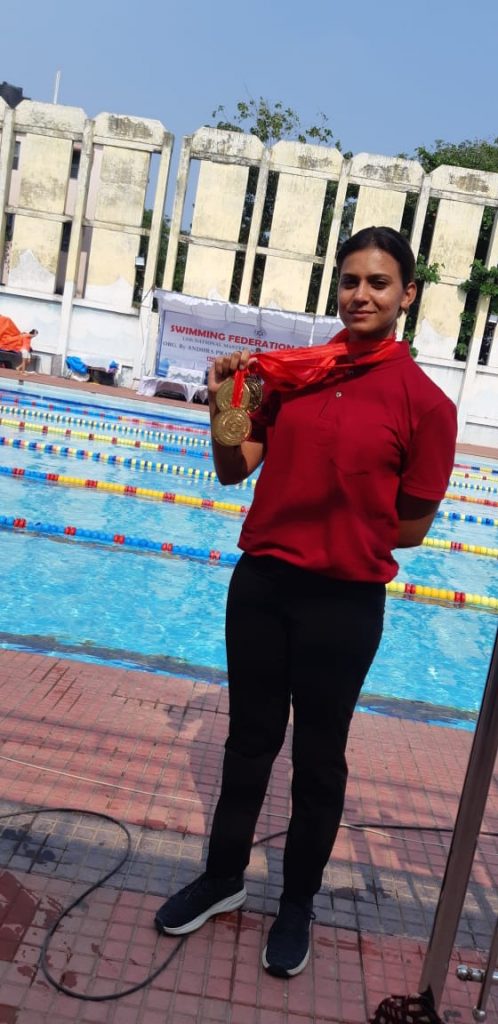 MAJ MUKTA S GAUTAM Maj Mukta S Gautam got commissioned in Indian Army on September 15, 2012. She is a computer engineer by qualification who worked as software engineer with Infosys for two years.In year 2013, she participated in the pioneers of adventure in Corps of EME. She was part of EME Sailing Team and has participated in the Sailing Nationals in year 2014. During the year 2017 after five years of volunteering she was detailed for Mountaineering Basic at Army Mountaineering Institute, Siachen Base Camp,the highest battlefield in the world.In January 2018, she successfully scaled Mt Stok Kangri (6123 M) as a part of Joint Army Winter Expedition in Ladakh region followed by another Indian Army Women expedition to Mt Bhagirathi II (6512 M) in Garhwal Himalayas in May-June 2018. The team comprising 9 women officers successfully scaled the peak and set a new World Record (Limca) for conducting Yoga at the height of 19,022 feet, breaking the previous World record at 18,800 feet. She led the Team 'A' to the summit as Team LeaderIn Sep-Nov 2018, she got a chance to sail with experienced Army sailors for Indian Army 'Around Indian Peninsula' Sailing Expedition from Haldia to Porbandar. A record was created by successfully sailing, 3850 NM around Indian Peninsula in a Bavaria class fixed keel Yacht in 40 days. The team went across major ports of the Indian peninsula including Haldia, Vishakapatnam, Chennai, Trivandrum, Kochi, Mangalore, Goa, Chennai and Porbander facing moderate to heavy winds enroute and fighting cyclones like Gaja making their way to the shores commemorating Platinum Jubilee of Corps of EME.She along with her team successfully completed pre monsoon Indian Army Mountaineering Expedition to Mt Kun (7077 M) from August 2-26, 2019. The team could safely scale the second highest and one of the most rugged and treacherous peak in Zanskar region.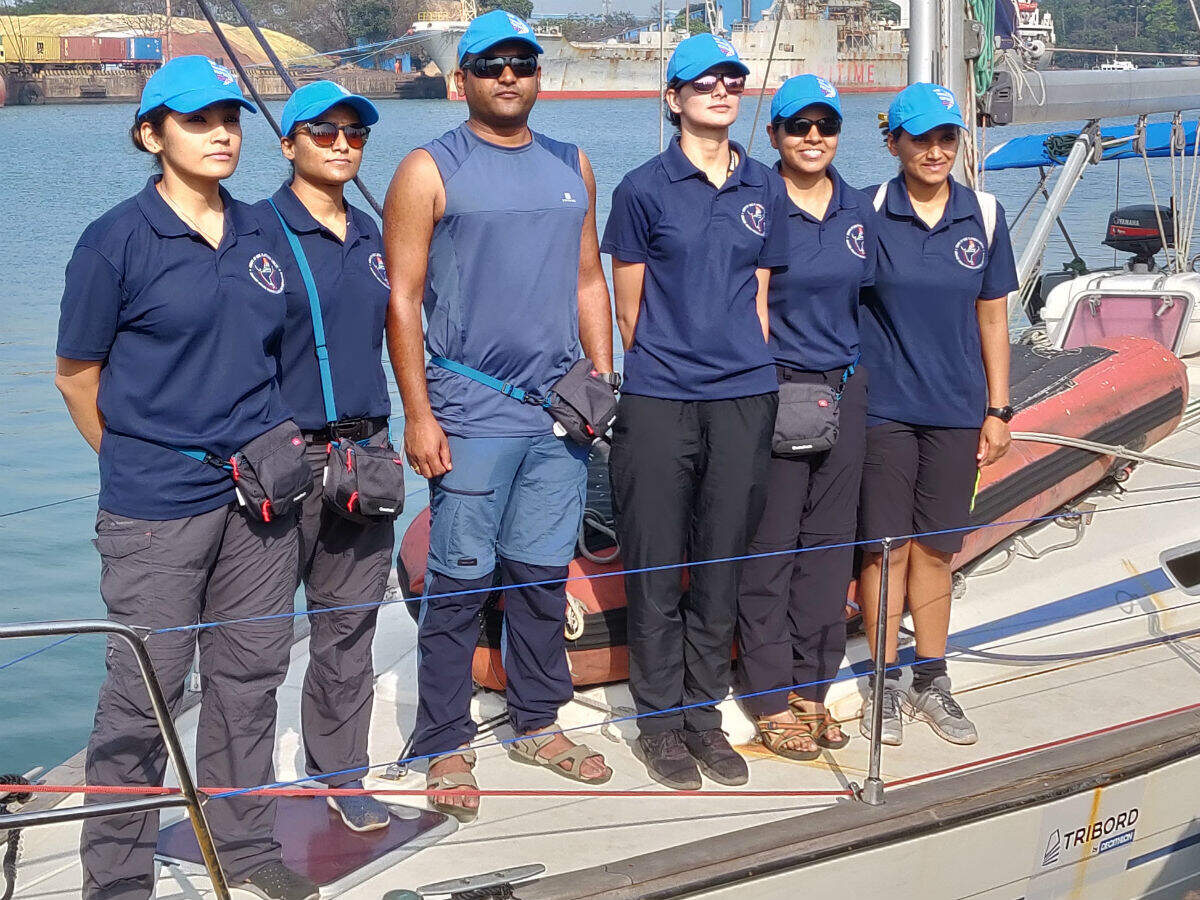 ANJANA BHADURIA Anjana Bhaduria is the first woman to win a gold medal in the Indian Army. After completing her MSc in Microbiology, Anjana Bhaduria applied to an advertisement for the induction of Lady Officers into the Army through the Women Special Entry Scheme (WSES) and was accepted into the first-ever batch of women cadets in the Indian Army in 1992. Excelling in every field during the training, she was chosen for the gold medal from a batch that consisted of both men and women.
RUCHI SHARMA Capt Ruchi got commissioned into the Army Ordinance Corps in 1996. In 1997, she created history by becoming the first Operational Woman Paratrooper. She still inspires and motivates children and women to serve the Nation.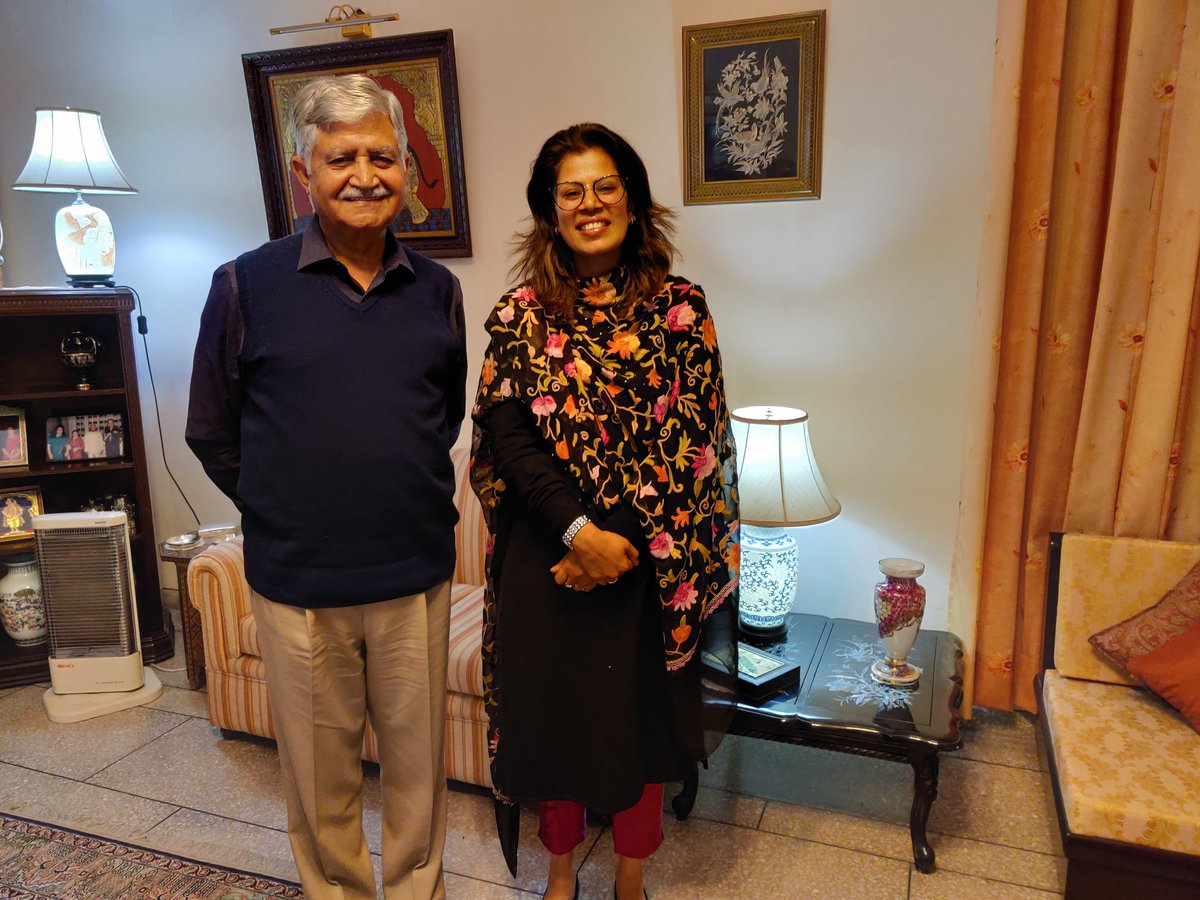 MITALI MADHUMITA In February 2011, Lt Col Mitali Madhumita became India's first female officer to receive the Sena Medal for gallantry, a decoration given to soldiers for exemplary courage during operations in J&K and the North East. Madhumita, who was leading the Army's English Language Training Team in Kabul, was the first officer to reach the Indian Embassy in Kabul that came under attack by suicide bombers on February 2010. Though unarmed, she ran close to 2 km to reach the spot, personally extricated nearly 19 Officers of the Army training team who were buried beneath the rubble and rushed them to hospital.
SQN LDR MINTY AGGARWAL, YSM She is a fighter controller in the IAF. She was part of the team that guided Wing Commander Abhinandan during the Balakot Operations. She was awarded with the Yudh Seva Medal. She has the distinction of being the first woman officer of IAF to be awarded with YSM for her efforts during the Balakot operations.
SQN LDR ANUPAM CHAUDHARY Sqn Ldr Anupam has represented the IAF in the Republic Day Parade on four occasions. The Air Force contingent won three consecutive times in 2011, 2012 & 2013. As a helicopter pilot, she has undertaken a number of casualty evacuations including a live SAR during AC-130 crash in 2014.
SQN LDR KAVITA BARALA Sqn Ldr Kavita Barala is the first woman navigator to be commissioned in IAF. She has over 1800 hrs of incident / accident free service flying. She holds the distinction of being the first woman navigator to be cleared for operational roles including bombing, para drop and formation both by day and night.She holds the distinction of flying in one most treacherous terrain including operations in Advanced Landing Ground (Menchuka, Vijay Nagar). She is currently holding RTR Cat B on An-32 aircraft.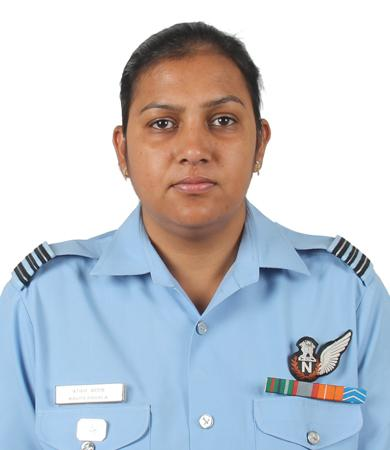 WG CDR DIVYA YADAV Wg Cdr Divya Yadav was commissioned in Indian Air Force on December 20, 2003. Subsequent to her commissioning, she had undergone Basic Air Traffic Controllers Course and was awarded Exceptional grading. Since then she has been performing duties of an Air Traffic Controller. She is a qualified radar controller with over 2000 CILDs to her credit and holds highest ATC professional category, CAT A.As a radar controller, she has worked on different kinds of radars and participated in various flying exercises/inspections. She was adjudged first in the order of merit in ATM & AL Advanced course and was awarded DS grading. She has represented India in Exercise Aviaindra which is a bilateral exercise with Russia. She has varied experience of handling intense flying activities and administrative duties.
WG CDR T ASHA JYOTHIRMAI Wing Commander T Asha Jyothirmai was commissioned in 1997 as an Accounts Branch officer of Indian Air Force. The officer is very passionate about flying and aviation and took up parachuting in the year 1999 without her profession deterring it.She is an avid skydiver who has logged 864 jumps till date, the highest by any woman in India. As a member of the Indian Air Force Skydiving team, she has jumped across the country and also represented India at the World Military Parachuting Championship in Switzerland by leading the First Women Skydiving Team, Team Leader of Indian Women formation Skydiving Team and the first woman who jumped out of a micro light aircraft.
SQN LDR KHUSHBOO GUPTA Sqn Ldr Khusboo Gupta is the first woman pilot being posted to the Siachen Pioneers. In a very short span, she completed the extensive flying syllabus of the Leh AOR including Op Meghdoot syllabus and became the first woman Glacier Qualified Captain to land at the highest helipads of the world, i.e. Amar (20114ft) and Sonam (19000ft). She is also a Qualified Flying Instructor with Cat/ IR BMG. She has flown 2800 hrs, out of which approx 500 hours have been flown in the Highest Battlefield of the world. She has undertaken a number of casualty evacuations ex-Leh and Op Meghdoot. Ever a martinet for following the orders and procedures, Sqn Ldr Khusboo Gupta has been instrumental in instilling professional discipline among the aircrew as well as the ground crew. With her thorough knowledge of the aircraft and its system and the terrain she is able to make decisions with haste. During one of the Single Pilot Operations sortie at Karu helipad, on approach and carried out a sit down. She informed the other aircraft of the snag and her decision to switch off. After switch off, on checking the movement of the rudders, the rudder pedals got stuck. At such high altitudes, this situation is generally irrecoverable. The thorough knowledge of the aircraft systems and her adherence to checks and procedures were the tools that saved such situation and hence became a lesson to the rest of aircrew.
GP CAPT SHAKTI SHARMA She is an education officer and the first select woman officer as Group Captain in IAF (other than Medical branch). She was the first woman officer out of Army, Navy and Air Force, to command a Sainik School (Kapurthala) and also the first among tri-services woman officer to undergo prestigious Higher Defence Management Course. The officer was commissioned into the Education Brach of IAF in the year 1994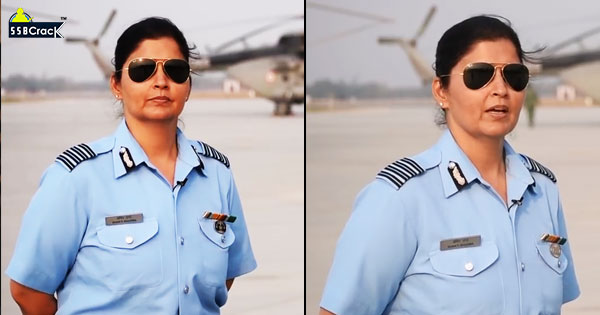 AIR MSHL PADMA BANDOPADHYAY, PVSM, AVSM, VSM (RETD)She is the first women Air Mshl of the IAF. In her career, she has been first women to become a fellow of the Aero Space medical society and the first Indian women to have conducted scientific research at the north pole. She was awarded Padma Shree Award on in January 2020.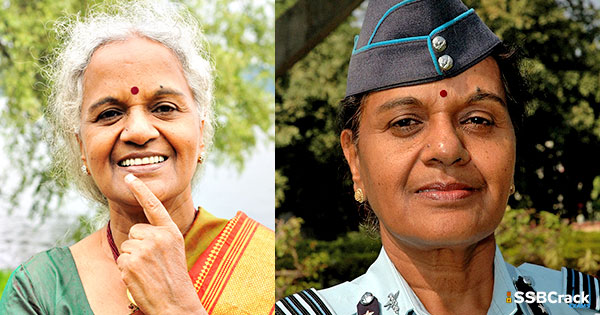 FLT LT SHIVANGI SINGH She will be the first woman fighter pilot to join the Rafale fleet of the Indian Air Force.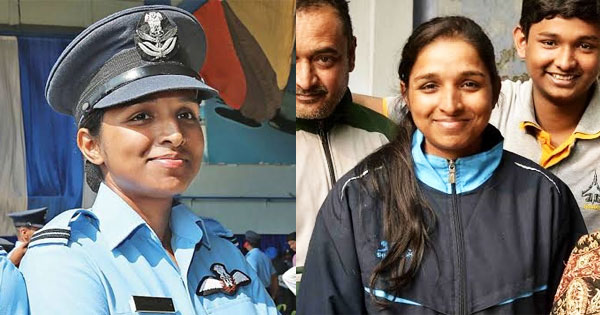 FLT LT AVANI CHATURVEDI Flt Lt Avani joined AFA in June 2015 and was commissioned into the Flying Branch in June 2016. After completing basic flying training, she became the first Indian woman to fly solo on Mig-21 Bison Fighter Aircraft.
FLT LT MOHANA SINGH The officer is from the first batch of woman officers inducted into the fighter stream. She has flown various trainer aircrafts and has a total flying of approximately 500 hrs. Presently, she is flying the HAWK-132 aircraft.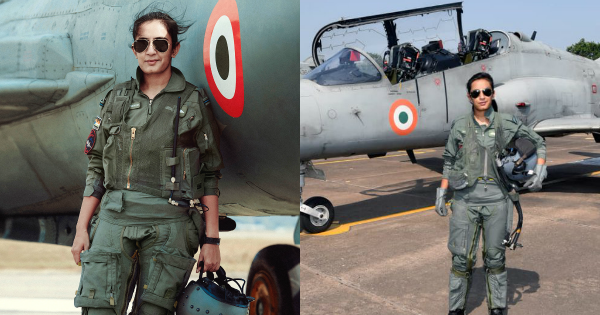 FLT LT BHAWANA KANTH She is one of the first women pilot to get commissioned into Fighter Stream of the IAF. She is one of the first women fighter pilots in the Indian Air Force (IAF). Bhawana Kanth to become the 1st woman fighter pilot to take part R-Day parade.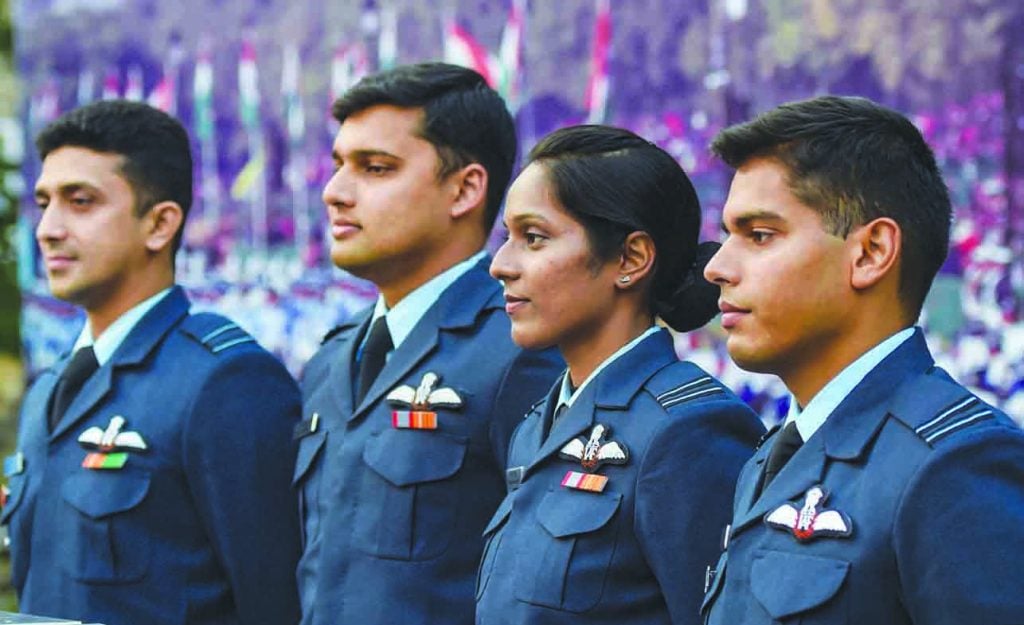 Lt Shivangi, Lt Shubhangi Swaroop, and Lt Divya Sharma. The first batch of women pilots of the Indian Navy has been operationalized on Dornier Aircraft by the Southern Naval Command (SNC) at Kochi. The three women pilots were part of the six pilots of the 27th Dornier Operational Flying Training  (DOFT) Course, who graduated as 'Fully operational Maritime Reconnaissance (MR) Pilots'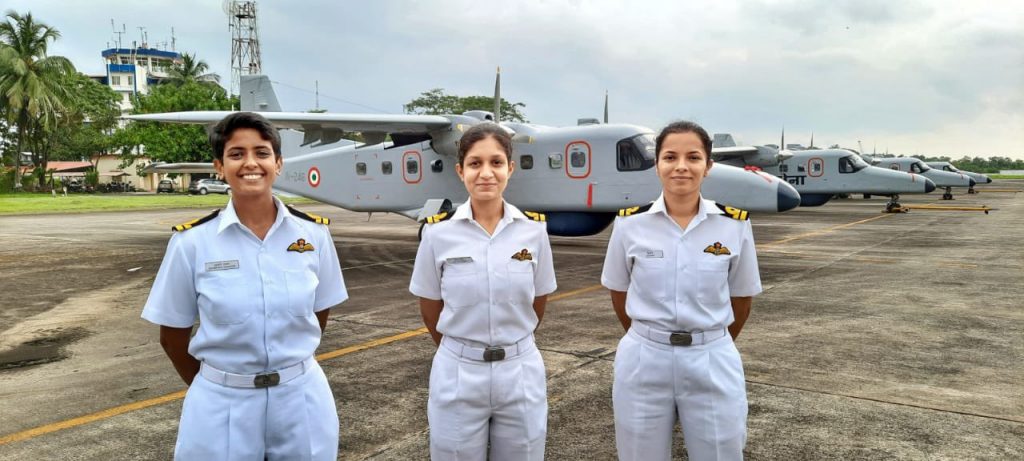 Source link